Why Should You Hire Security Guards in Rancho Cucamonga For Your Business?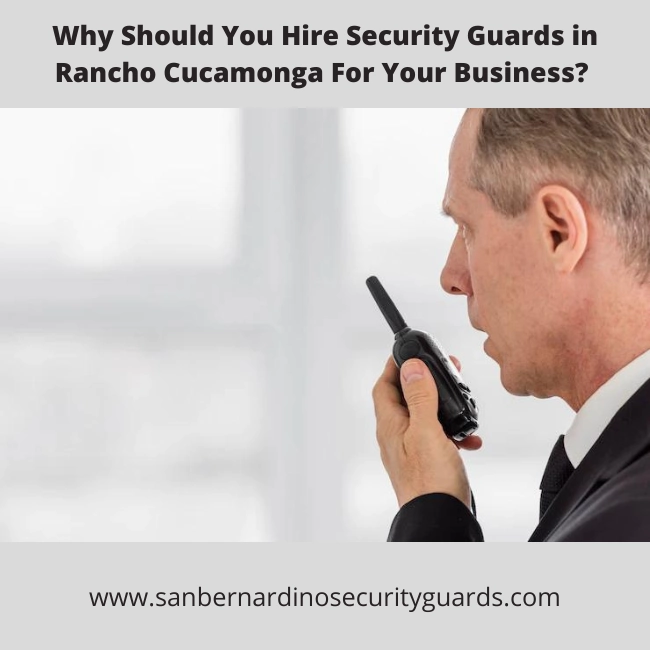 Many people think that inaugurating a new business is the toughest phase of a business owner's life. However, protecting everything on-premise is the most challenging task that requires attention to detail. If you're a business owner in Rancho Cucamonga, it's vital to keep your business protected from intruders. One of the best ways to safeguard your business is by hiring security guards in Rancho Cucamonga. Having a skilled team will not only keep your space safe but also offer complete peace of mind to you, your workers, and the customers visiting your business. If you're eager to know more reasons to hire security guard services, continue reading.
Prevent Crimes
One of the most obvious reasons for hiring experienced guards is that they help you to keep the criminal-minded people at bay. When you've skilled guards, criminals will think twice before entering your office. In addition, they're trained to detect suspicious activities beforehand. This, in turn, helps the security personnel to stop theft, fraudulent activities, and other major crimes from happening.
People Feel Safe
A security guard keeping your business safe will offer peace of mind to your employees as well as the people visiting your business. This, in turn, will lead to employee satisfaction and a huge improvement in productivity. As a result, you will get to see a good improvement in the bottom of your company, month after month and year after year.
Reduce Your Stress Level
Not all business owners are equipped with the knowledge, skills, and tools to deal with alarming situations. This is where hiring the security guards in Rancho Cucamonga sounds like the perfect solution. They're equipped with the skills and prior experience to keep you, your business, and your employees safe and secure. This, in turn, lowers your stress and gives you peace of mind that your belongings and employees are protected.
Final Thoughts
Now that you know there are plenty of reasons to choose security guards, it's time to look for the best company. At United Security Services, we take pride in keeping your business safe and protected. Our 24*7 high-quality security services will ensure that your residential, as well as commercial premises, are safeguarded. Having worked for hundreds of clients, we have a team of skilled and trained security guards in Rancho Cucamonga. No matter if you're looking for armed security guards or you wish to go for unarmed guards, we've got everything covered for you under one umbrella.