Do Not Overlook Importance of Warehouse Security Guards San Bernardino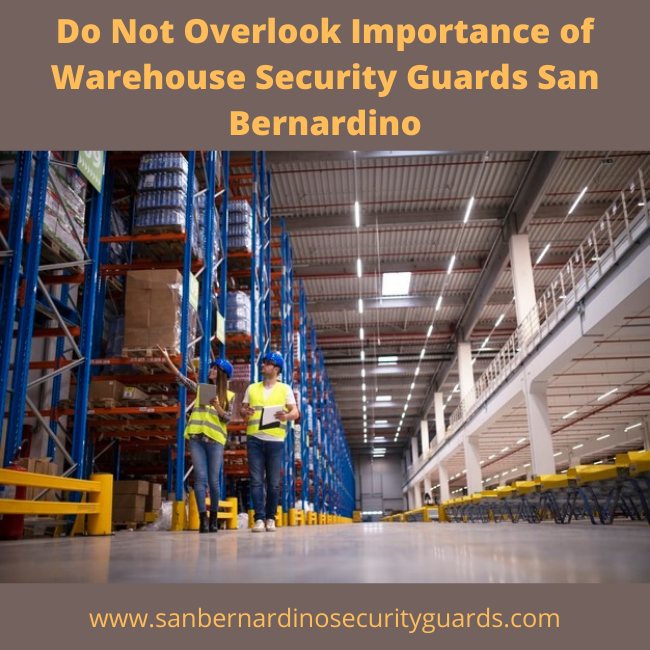 Your warehouse is a critical part of your business and this is why it is essential to hire a trusted security company. Thieves can come from every side of your warehouse and that is why you need security that has your back. Reliable warehouse security guards San Bernardino help in running your warehouse efficiently.
If you have a large warehouse filled with inventory, you might not even notice anything missing until you need that particular item. The warehouse is a dense and fully equipped area where thieves can steal items without being seen. There are many warehouse owners and managers that overlook the significance of hiring warehouse security guards.
When you hire warehouse security guards San Bernardino you can reduce the logistics loss prevention, wear and tear concerns. It is no surprise that the presence of a reliable team of warehouse security guards in San Bernardino helps in curbing the potential threats and additional concerns that can affect your warehouse security and safety.
What else can affect a warehouse?
Not only trespassers but your employees can also be the reason for logistic loss and thefts. It is found in many cases involving employees in warehouse theft. Warehouse security guards protect all employees while going in and coming out. Professional security guards understand that everything which is inside your warehouse is important and you are accountable. They thoroughly check every employee and ensure they are not stealing anything.
Proficient warehouse security guards in San Bernardino offer many more services than patrol and surveillance monitoring. They play a significant role in enforcing safety policies, monitoring inventory on shelves, controlling access to the facility, checking both employees and guests, watching surveillance footage, and many more things that help in curbing theft in the warehouse.
When you hire a security guard company to establish an excellent warehouse security standard, it is necessary to work alongside your security team. Working with warehouse security guards San Bernardino ensures that you never come across security breaches. They create a unique strategy that works for your particular warehouse. Overall, you have to consider hiring warehouse security guards for your people, inventory, equipment, and data. Doing these all for security guards is easy and they are trained enough to do this. So do not let your warehouse be at risk. Hire a recognized and reputable warehouse security guards company for exceptional and excellent security service and rest assured about the ultimate result.