Why Hotels Need Armed Security Guards Services in Fontana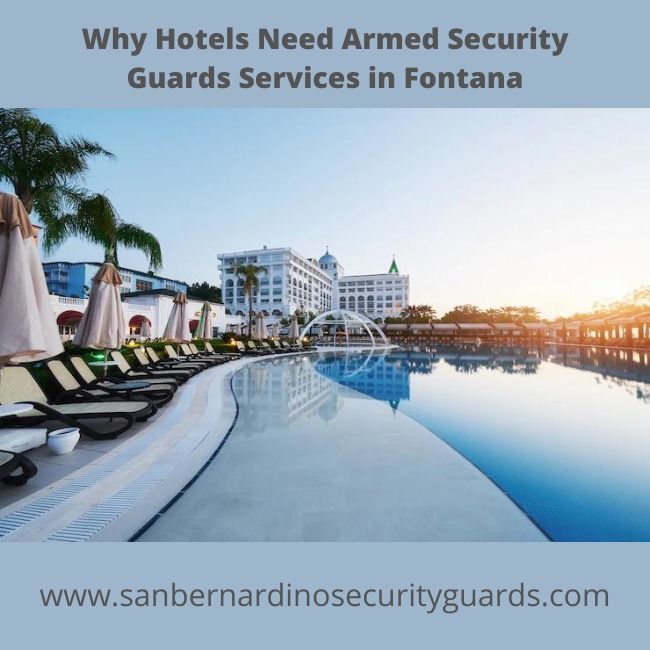 Hotels, especially the opulent ones, are the primary targets for thieves. With the constant hustle and bustle of guests checking in and checking out, it's hard to figure out who is having malicious intent. The presence of a few surveillance cameras and a panic button may not be sufficient to deter criminal activity. Given a large number of people (staff, visitors, etc.) and valuable assets present at a hotel, protecting those would take precedence over dealing with the security disaster.
Such situations occur more frequently than usual in the hotel industry. As a result, it is critical to recruit armed security guards Fontana. These specialists have undergone rigorous training to deal with any situation. Their services are critical for the safety of your valued visitors and possessions.
Reasons hotels need Armed Security Services Fontana
As a professional in the hospitality sector, you're constantly putting out fires, managing your personnel, and finding new ways to bring value to your customers. There's rarely enough time to monitor your visitors' everyday activities. As a result, if you lose a bottle of gin or a stack of bath towels, you may never know who took it or who walked away with your hard-earned money. A guest's automobile has been wrecked or rear-ended by an unknown SUV? There is no one to assist because parking lots are not patrolled. Due to the utter lack of security, scared and fearful guests are unlikely to ever return.
The reasons you should hire armed security guards Fontana –
Monitoring Entrances & Exit Points
As it is quite well known that the mere presence of a security guard plays an efficient role in deterring crime. By being alert and monitoring the comings and goings of individuals in a hotel, they identify suspicious behavior and deal with it before any major incident occurs.
Overnight Protection
While crime can occur at any time of day, the majority of suspicious activity occurs in the evenings and at night. Armed security guards Fontana can patrol your property, including corridors, lobbies, parking lots, party halls, and other areas, to trace down and stop suspicious activity.
Respond to Emergencies
Despite numerous precautions, emergencies can happen. The most common reaction in such situations is panic, which can exacerbate a terrible situation. In such cases, you need a trained professional to deal with the emergency. Having that specialist on hand will calm your employees, visitors, and others, preventing them from doing anything foolish or hazardous. In case of emergencies such as fire, terrorist attacks, etc., armed professionals can evacuate the area with minimum injuries to people. They can also perform first aid if the need arises.
Don't let major inconveniences intimidate you into hiring security. Having an on-site professional hotel security guard service is essential for your peace of mind, and protection from United Security Services will allow everyone under your roof to breathe easier.