Why Do Construction Sites Need Security Guards in Ontario?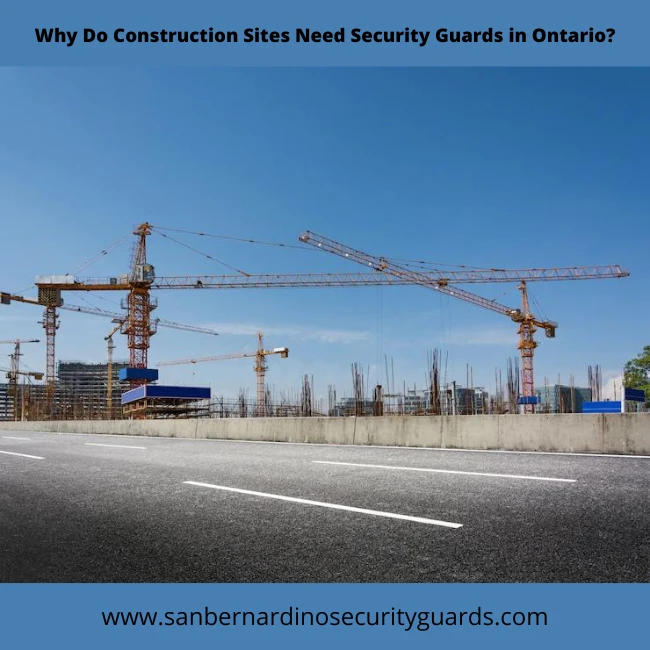 Although many individuals may disagree with me, construction sites are extremely exposed to security risks. Due to the lack of a strong barrier and open access points, vandalism, violence, and criminal infiltration are all prevalent activities at construction sites.
Such circumstances can result in significant financial losses for you. Investing in security guards Ontario for your construction site will allow you to continue working in a safe environment without interruption.
How will security guards Ontario keep your construction site safe?
Construction companies are typically on a tight schedule, and construction workers' jobs are already affected by time limitations. Furthermore, they will be unable to perform efficiently if they do not have the peace of mind of working in a secure environment. As a result, the safety of your personnel, as well as the materials and equipment used in construction, is a major priority.
With time restrictions and tight deadlines, any intruder-related disruption is unacceptable. Any unwarranted interventions can harm your company's reputation, result in wounded workers, lead to the loss of a contract with the on-site firm, resulting in the loss of equipment, and so on. These considerations influence your decision to hire security guards for your company.
The presence of security officers, who have experience deterring crime, will aid in the prevention of theft of valuable building supplies, machines, and tools, among other things. This will not only give you peace of mind, but it will also save you money for replacing stolen possessions, which is especially important when you are on a tight budget.
Injuries are common, especially those that occur on construction sites. Construction sites security guards Ontario are trained in limiting undesirable dangers so that individuals can evacuate with minimal injuries using safe evacuation strategies, in addition to eliminating criminal liabilities and threat-related inadequacies.
Benefits of hiring security guards Ontario for your construction site:
Burglaries, vandalism, trespassing, and other crimes can be prevented with the intervention of security guards.
Your inventory will be tracked by security guards (both the rented and the purchased ones).
Workers' disputes can be handled effectively by security guards.
Security guards will ensure that workers adhere to all safety protocols.
Security guards can help reduce crime in your neighborhood.
Security guards boost the productivity of employees who would otherwise be unable to work owing to security concerns.
Security guards can help you secure your construction site by installing CCTV cameras, lock-up equipment such as scaffolding,
alarm systems, commercial lighting, and fencing, among other things.
Final Words
Businesses must ensure that their building sites are secure against theft and other threats. To keep within budget and avoid wasting time and money on replacing stolen items, paying for worker injuries sustained during conflicts, vandalism, and so on. It's critical to hire security guards Ontario (construction sites security guards Ontario) who can provide you with peace of mind while also protecting you, your construction site, and your staff from security risks.